MEET PIUS NIWAMANYA: NOW A FIRST-CLASS UNIVERSITY GRADUATE!

January 15th, 2019 was one of the happiest days of my life because it is when I received a call that I would finally be able to go to university. I had completed my A-level education a year earlier and had not enrolled in any tertiary institution as I lacked tuition fees. Now, I had been awarded a full study scholarship from Beautiful World Canada, offered through Nyaka.
On January 20th, 2019, almost a month after the first semester had begun, I attended my first lecture at Uganda Christian University in Mukono. I will never forget the joy and gratitude that I felt, knowing that I was finally a university student. The scholarship from Beautiful World Canada not only catered for my tuition fees, but also scholastic materials, accommodation, necessities, and even
a stipend!
With all my needs taken care of, I was motivated to work tirelessly to achieve my academic aspirations. I concentrated on my academics and achieved first-class grades in both semesters of my first year.
However, in my second year of university, the COVID-19 pandemic struck, resulting in a nationwide lockdown. All learning institutions were closed, and I went back home to Nyakagyezi village awaiting a time when my studies could resume. Fortunately, my university with authorization from the National Council for Higher Education opted to administer the teaching and learning processes online. I, therefore, had to continue my academic work online using a phone and other electronic devices.
This required stable electricity and internet connections which I did not have at home. The crowded environment at home also did not provide a conducive atmosphere to study.
The Nyaka Blue Lupin Community Library, supported by the Stephen Lewis Foundation, became a Godsend during this time. The library provided a comfortable learning atmosphere with a wide range of reading materials that facilitated ample study and research. The library's stable electricity ensured that I could always attend my online classes as I was able to charge my phone. The computer lab was available for me to research, complete, and submit schoolwork that could not be done on my phone. This community space allowed me to engage and study with students from other universities who had also taken advantage of the services the library was offering. Through the library, I gained mentors and friends that are still dear to me today.
With all these resources and benefits provided by the Nyaka Library, I was able to not only keep up with my studies but read ahead which allowed me to excel in my academics.
Beautiful World Canada continued to pay for my tuition and internet costs to support my online education during this time, ensuring that my studies remained on track despite the pandemic's disruption. I was also provided for as I fulfilled the research and internship academic requirements for my course which allowed me to fully engage in the experience. Beautiful World continued to support me when the lockdown restrictions were lifted and I was able to return to university.
On July 29th, 2022, I graduated from Uganda Christian University with a first-class degree in Bachelor of Social Work and Social Administration. Indeed, this is a great milestone and I believe it will lead me to my life goals, which include becoming a professor and giving back to my community. The opportunity that was given to me is a blessing that has changed my life! I am where I am today because of Beautiful World Canada and the Stephen Lewis Foundation and the work that they do with Nyaka. I am eternally grateful. Thank you!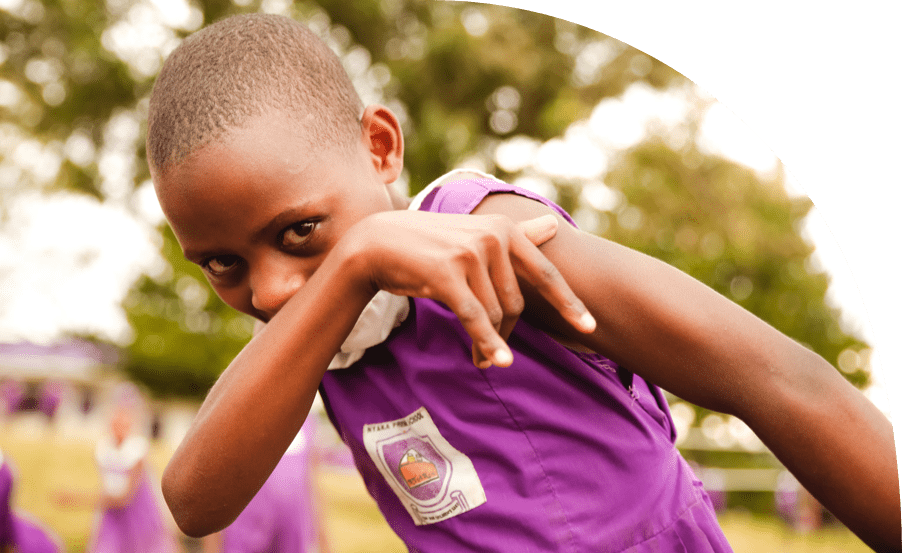 Support Nyaka
We rely on donors around the world to support our programs. Will you join them?
Donate